Christmas Tree Safety
Fire Safety for the Holidays (from NIST
Trees used indoors for the holidays account for approximately 400 fires annually, resulting in 10 deaths, 80 injuries and more than $15 million in property damage.

This video demonstrates the how quickly the fire can develop when a DRY tree is exposed to an open flame.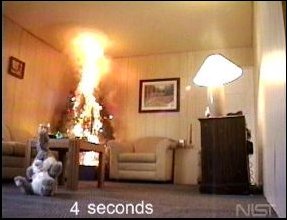 SHOW VIDEO:
(AVI file, 2,411 KB)
(MOV file, 2,341 KB)
(RealMedia file, 246 KB) ***


Note: flashpoint of fabrics reached in 20 seconds, other furniture in 30 seconds, room destroyed in 45 seconds.
What to Do?
See the NYS Holiday Safety Tips.
In addition, I personally would also recommend that you make sure your tree is clean-cut when you buy it (have them cut a few inches off the bottom) and make sure the stand stays full of water. When the tree gets dry, get rid of it.
Jeff
---
Contact.